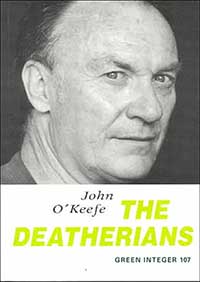 Price: U.S. $10.95*
John O'Keefe
The Deatherians
Green Integer Series No.: 107
ISBN: 978-1931243506, Pages: 199


*You can purchase online using U.S., Australian or Canadian Dollars, Euros, Pounds Sterling or Japanese Yen

A startling, exuberant anti-musical, The Deatherians, in best Grand Guignol tradition, takes Life by its throat! Its is Amsterdam, the future: euthanasia is state-sponsored and under the direction of the reluctant Dr. Krator, who finds himself faced with killing his colleague, Vodigger. Krator's assistant at the Halcyon Foundation has just discovered that 1.5% of the population is immortal. Seeking solace in the underbelly of the red light district, Krator falls in love with Morivia, who concocts a brilliant scheme for redemption.
Welcome to Sexyland!
John O'Keefe lives in San Francisco, and has written and acted in numerous plays. Among his works are Jimmy Beam, Ghosts, All Night Long, Shimmer, Glamour, and, most recently, Times Like These, which won "Best Playwriting 2002" awards from the Los Angeles Drama Critics Circle and the LA Weekly.
The Undermain Theatre in Dallas, Texas, is noted for its excellent performances of contemporary theater, including works by Mac Wellman, Eric Ehn, and John O'Keefe. The Deatherians won "Best Ensemble," "Best Director," and "Best Playwriting" from the Dallas Drama Critics Circle.
Purchase using our online PayPal shopping cart, or by phone 323.857.1115, fax 323.857.0143, email douglasmesserli@gmail.com, or send a check or money order to Green Integer, 6022 Wilshire Boulevard, Suite 202C, Los Angeles, CA 90036. We charge the list price plus $2.00 for handling & postage.