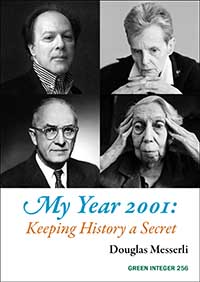 Price: U.S. $15.95*
Douglas Messerli
My Year 2001: Keeping History a Secret
Green Integer Series No.: 256
ISBN: 978-1-55713-428-8, Pages: 504


*You can purchase online using U.S., Australian or Canadian Dollars, Euros, Pounds Sterling or Japanese Yen

In this, the second volume of his series of now 15 annual cultural memoirs written from 2000 to the present, Douglas Messerli explores his own cultural and personal experiences within the context of attempts—sometimes out of deception, but at other times necessarily—to keep history a secret.
Even the history of the events recounted during this year—in Messerli's essays on books, films, plays, operas, concerts, performances, and political events that often came later—comes into question. As the author notes: "It is not insignificant that many of the big events of 2001 are re-experienced 'after the fact,' with the vision of hindsight hanging over them. For what I now realize, looking back, is that during 2001 there was a concerted attempt by government officials and the society as a whole leading up to that year and including it to keep history a secret, to obfuscate, confuse, and to actually lie about realities that I could not have known had I been writing in the moment. Lawrence Wright's powerful book of 2006, The Looming Tower, revealed, for example, how this purposeful obfuscation and withholding of information contributed to the events of 9/11. My own recreation of that fateful day, moreover, is evidence, in hindsight, of how disorienting those events were within the moment."
Reporting on works of the year which he later experienced and those of later years which seemed appropriate to this volume, Messerli ponders what it means to recreate the past. How does the present deflect or transform what we previously experienced? When do the horrors of the past need to be modified to effectively move forward into the future? What is truth and how can one best express it? Through numerous cultural events and works by W. B. Sebald, Susan Howe, Budd Boetticher, Hiroshi Teshigahara, Leonard Bernstein, Per Olov Enquist, Orhan Pamuk, William Carlos Williams, G. W. Pabst, Eudora Welty, Max Ophuls, Andrzej Wajda, Juan Goytisolo, Allen Ginsberg, and numerous others, Messerli explores these important questions, and attempts to discover not only how to restore the past but what history means to our very survival.
Also by Douglas Messerli:
After [1-55713-353-0], U.S. $10.95
Bow Down [1-928801-04-8], U.S. $12.95
Dark [978-1-933382-14-2], U.S. $12.95
First Words [1-931243-41-7], U.S. $10.95
Maxims from My Mother's Milk/Hymns to Him: A Dialogue [1-55713-047-7], U.S. $8.95
My Year 2000: Leaving Something Behind [978-1-55713-443-1], U.S. $15.95
My Year 2002: Love, Death, and Transfiguration [978-1-55713-425-7], U.S. $15.95
My Year 2003: Voice Without a Voice [978-1-933382-35-X], U.S. $15.95
My Year 2004: Under Our Skin [1-978-1-933382-80-7], U.S. $15.95
My Year 2005: Terrifying Times [1-933382-65-1], U.S. $15.95
My Year 2006: Serving [978-1-933382-93-7], U.S. $15.95
My Year 2007: To the Dogs [978-1-55713-424-0], U.S. $15.95
My Year 2008: In the Gap [978-1-55713-462-4], U.S. $15.95
My Year 2009: Facing the Heat [978-1-55713-429-5], U.S. $15.95
My Year 2010: Shadows [978-1-55713-432-5], U.S. $15.95
My Year 2011: No One's Home [978-1-55713-442-4], U.S. $15.95
Reading Films: My International Cinema [978-1-55713-427-1], U.S. $29.95
Stay [978-1-55713-447-9], U.S. $12.95
Purchase using our online PayPal shopping cart, or by phone 323.857.1115, fax 323.857.0143, email douglasmesserli@gmail.com, or send a check or money order to Green Integer, 6022 Wilshire Boulevard, Suite 202C, Los Angeles, CA 90036. We charge the list price plus $2.00 for handling & postage.