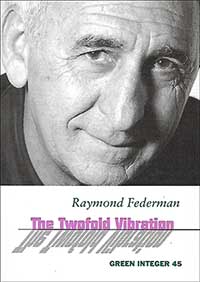 Price: U.S. $11.95
Raymond Federman
The Twofold Vibration
Series No.: 045
ISBN: 1-892295-29-6, Pages: 326


It is New Year's Eve, 1999. Our hero, known only as "the old man," awaits deportation to the space colonies. Buy why? His two devoted friends, Moinous and Namredef, have been urgently and desperately investigating the reason for his imminent exile, and they report their findings, unreliable as they are, to the author, Raymond Federman. Ribald farce, tragedy, history, philosophy, and science fiction—The Twofold Vibration touches and transforms many genres as it examines what it means to live as a survivor in the post-Holocaust era.
Born in Paris in 1928, Raymond Federman moved to the United States in 1947, after World War II. He is the author of several works of fiction, including Smiles on Washington Square and Take It or Leave It.