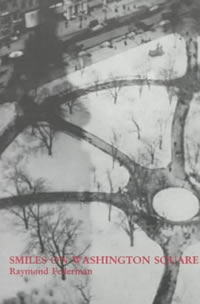 Price: U.S. $10.95*
Raymond Federman
Smiles on Washington Square
Green Integer Series No.: A Sun & Moon title
ISBN: 1-55713-181-3, Pages: 145


*You can purchase online using U.S., Australian or Canadian Dollars, Euros, Pounds Sterling or Japanese Yen

In this, his fifth novel in English (and its first paperback edition), the acclaimed French-born writer and poet, Raymond Federman, has given us the bittersweet tale of Moinous and Sucette who fall in love "across a smile" in Washington Square. Smiles on Washington Square is a charming and complex novel. With the masterful ease of a tightrope walker, Federman plays with our sense of time and space as he creates, with extraordinary compassion, a tale that makes us see our own vulnerability and worthiness. Stylistically, his links to Beckett are evident in the stripped down prose, the remarkable symbolism and word games, and in his focus on the downtrodden and inarticulate cast-aways of an industrialized world. Ultimately, Smiles on Washington Square is a book that teaches us there is no easy story, no safe entrance, no line of action not fraught with obstacles and humiliation; but finally, in the face of the inevitable disappointment of the human condition, Federman shows us how sweet possibility is.
Purchase using our online PayPal shopping cart, or by phone 323.857.1115, fax 323.857.0143, email douglasmesserli@gmail.com, or send a check or money order to Green Integer, 6022 Wilshire Boulevard, Suite 202C, Los Angeles, CA 90036. We charge the list price plus $2.00 for handling & postage.