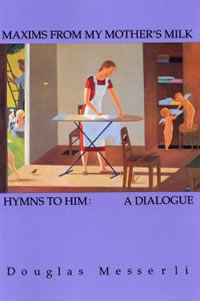 Price: U.S. $8.95*
Douglas Messerli
Maxims from My Mother's Milk/Hymns to Him: A Dialogue
Green Integer Series No.: A Sun & Moon title
ISBN: 1-55713-047-7, Pages: 69


*You can purchase online using U.S., Australian or Canadian Dollars, Euros, Pounds Sterling or Japanese Yen

Through the two matched sequences of poems this, his fourth book of poetry, Messerli probes the dialogue between male and female, wife and husband, mother and father, the masculine and feminine pysches of his own being.
The poetic which results (and for Messerli a poetics is a way of thinking and living, not simply a method of expressing emotions and ideas through words) is less a resolution than a clashing, clanging, lyrical, jarring, meditational, discordant, corny, witty integration of the self. The self as it should be, argues this poet, is not one but a simultaneous celebration of the teeming many—a sort of Ellis Island of the head and heart.
Also by Douglas Messerli:
After [1-55713-353-0], U.S. $10.95
Bow Down [1-928801-04-8], U.S. $12.95
Dark [978-1-933382-14-2], U.S. $12.95
First Words [1-931243-41-7], U.S. $10.95
My Year 2000: Leaving Something Behind [978-1-55713-443-1], U.S. $15.95
My Year 2001: Keeping History a Secret [978-1-55713-428-8], U.S. $15.95
My Year 2002: Love, Death, and Transfiguration [978-1-55713-425-7], U.S. $15.95
My Year 2003: Voice Without a Voice [978-1-933382-35-X], U.S. $15.95
My Year 2004: Under Our Skin [1-978-1-933382-80-7], U.S. $15.95
My Year 2005: Terrifying Times [1-933382-65-1], U.S. $15.95
My Year 2006: Serving [978-1-933382-93-7], U.S. $15.95
My Year 2007: To the Dogs [978-1-55713-424-0], U.S. $15.95
My Year 2008: In the Gap [978-1-55713-462-4], U.S. $15.95
My Year 2009: Facing the Heat [978-1-55713-429-5], U.S. $15.95
My Year 2010: Shadows [978-1-55713-432-5], U.S. $15.95
My Year 2011: No One's Home [978-1-55713-442-4], U.S. $15.95
Reading Films: My International Cinema [978-1-55713-427-1], U.S. $29.95
Stay [978-1-55713-447-9], U.S. $12.95
Purchase using our online PayPal shopping cart, or by phone 323.857.1115, fax 323.857.0143, email douglasmesserli@gmail.com, or send a check or money order to Green Integer, 6022 Wilshire Boulevard, Suite 202C, Los Angeles, CA 90036. We charge the list price plus $2.00 for handling & postage.