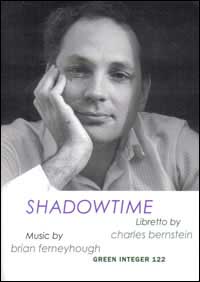 Price: U.S. $8.00*
Charles Bernstein
Shadowtime
[Digital edition]
Green Integer Series No.: 122
ISBN: 1-933382-00-7, Pages: 125


*You can purchase online using U.S., Australian or Canadian Dollars, Euros, Pounds Sterling or Japanese Yen

Shadowtime is a thought opera based on the work and life of the German philosopher, essayist, and cultural critic, Walter Benjamin. The libretto was written by Charles Bernstein for composer Brian Ferneyhough and had its premiere in May 2004 at the Munich Biennale, with subsequent productions at the Festival d'Automne in Paris, and the Lincoln Center Festival in New York.
In its seven scenes, Shadowtime explores some of the major themes of Benjamin's work, including the intertwined natures of history, time, transience, timelessness, language, and melancholy; the possibilities for a transformational leftist politics; the interconnectivity of language, things, and cosmos; and the role of dialectical materiality, aura, interpretation, and translation in art. Beginning on the last evening of Benjamin's life, Shadowtime projects an alternative course for what happened on that fateful night.
Opening onto a world of shades, of ghosts, of the dead, Shadowtime inhabits a period in human history in which the light flickered and then failed.
Tess Crebbin in Music and Vision, says "Bernstein's libretto, plain and simple, is the finest contemporary libretto that I know of."
See also the author's Interview with Romina Freschi in Green Integer Review Issue No. 1.
Green Integer is publishing several new, older, and out-of-stock Sun & Moon, Green Integer, and other archived titles on line. Most of these will appear for free. Some will be priced at affordably low prices for our "on net" customers. Ordering through PayPal, customers will be provided with a PDF link within 24 hours of payment so that they can either read the books on the computer or download them to print to other media.
Donations for this service are welcome.