Brian Evenson
Two Crises [on Jon Fosse]


---
Two Crises
Jon Fosse Melancholy (Dalkey Archive Press, 2006)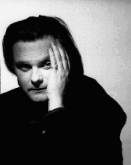 With Fosse's Melancholy, Dalkey Archive continues its practice (along with presses like Green Integer and Archipelago) of introducing American readers to fiction writers who, despite being justly well known elsewhere, are virtually unknown in the United States.   Melancholy is one of thirty books of fiction that Fosse has written, and the only book of his fiction to be published in English translation to date.
Melancholy focuses on the life of Lars Hertervig, an actual landscape painter from the mid-19th century, as he undergoes two crises.  The first chronicles his mental collapse as a student over the course of a day; it explores his obsession with a young girl, his nervousness about his art, and his growing confusion with the world.  The second takes place on Christmas Eve three years later in a mental asylum where he can't stop masturbating. It seems the beginning of his return to art (albeit his madness seems firmly rooted at this point); the doctor's insistence that painting is part of his mental problem is being slowly replaced by his growing sense that he must paint, mad or no.
These two sections are offset by a final section in which a writer named Vidme, (who seems very much like Fosse himself), decides in the course of investigating Hertervig's life to go visit a pastor, vaguely thinking about rejoining the Norwegian Church.  He finds neither the pastor nor the experience itself what he'd expect them to be, neither revelatory nor disappointing, but this somehow allows him to go on with his work in a slightly different way.
There are echoes here of another book that Dalkey has published, Scott Zwiren's Godhead and its rigorous and sometimes deadening depiction of madness.  Fosse does things with repetition in the Hertervig sections that would make Bernhard at his most obsessive blush.  He manages by so doing to create a tremendously derailed and obsessive voice.  There are moments when the voice feels exhausting, other moments where the repetition of, and return to, a particular theme take on a fuguelike and mysterious quality.  The second section, with the tension it creates between the physical and the artistic, is not unlike Gordon Lish's obsessive and sexualized second section of his novel Zimzum, and has a similarly disorienting effect.
Formally the first section is more than twice as long as the second, and the second more than twice as long as the third, which gives the book a strange feeling of tightening around one as one reads along.  Each section seems to respond to the others and stand in juxtaposition to it, but it is only with the deliberate inconclusiveness of the final section—the echoes of trouble and doubt about one's art that we vaguely sense in the syntax, and the subterranean connection these suggest between the mad and the sane—that all three sections come together in a tenuous but profoundly moving work of art.  The only question I have is why, since Fosse is as good as this, I haven't heard of him before now.  This is a masterful book, and one well worth reading for anyone interested in the use of repetition and variation as a means of conveying both story and affect.
Return to Top
---
Brian Evenson is the Director of Creative Writing at Brown University. His most recent work of fiction, The Open Curtain, is about to be published by Coffee House. It was reviewed in The Green Integer Review, No. 4.
Copyright ©2006 by Brian Evenson