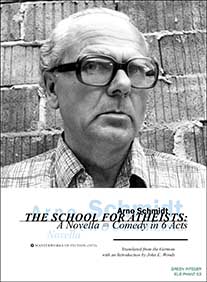 Out of Print

Arno Schmidt
The School for Atheists: A Novella = Comedy in 6 Acts
Green Integer Series No.: 53
ISBN: 1-892295-96-2, Pages: 301


Published originally in 1972, The School for Atheists is one of the great works of fiction by the renowned German novelist Arno Schmidt (1914-1979), whose masterpiece is Zettel's Traum, often compared to Joyce's Finnegans Wake.
Complex in plot, this later novel permits a more traditional reading than many of Schmidt's works. In 2014 envoys of the nation's great powers, including the matriarchal United States and the patriarchal China, hold a summit in the home of William T. Kolderup and his granddaughter Suse near the Danish border in the German town of Tellingstedt. In a story within a story Kolderup recalls his previous adventures with the mother-to-be of Isis, the man-devouring American Secretary of State. But Schmidt takes this even further by presenting his fiction as drama, in which the ship that carries Kolderup ant the mother of Isis is wrecked, testing the atheist stances of the characters. The wonder of this book, however, lies not in its hilarious plot, but in its amazing language, the fascinating typography, and his complex references to culture—popular and classical—from Jules Verne to William Shakespeare.
Green Integer has previously published Schmidt's Dialogs I and will publish the second volume of Dialogs later this year. Other books by Schmidt have been published by Dalkey Archive press, including the Collected Novellas, Collected Stories, Nobodaddy's Children, and Two Novels (The Stony Heart and Boondocks/Moondocks), all translated by the award-winning John E. Woods.