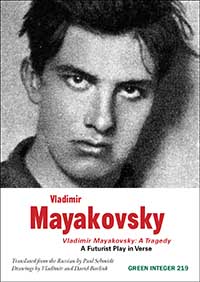 Price: U.S. $19.95*
Vladimir Mayakovsky
Vladimir Mayakovsky: A Tragedy
Green Integer Series No.: 219
ISBN: 978-1-55713-444-8, Pages: 54


*You can purchase online using U.S., Australian or Canadian Dollars, Euros, Pounds Sterling or Japanese Yen

To keep this book in stock, it will now be "printed on demand," which requires us to offer it at a higher price.
* * *
Two days before the 1913 premiere of this Futurist play in verse, the original cast withdrew because rumors started to spread across Saint Petersburg that they would be pelted with garbage and beaten by the public.
In fact, the audience did throw rotten eggs, shouting at 20-year-old Vladimir Mayakovsky (who played the leading role), "Stop him immediately!… Catch him!… He is not to get away!… Make him give us back our money!" According to actor Konstantin Tomashevsky:
Those were the times of turmoil, anxiety, dark forebodings. All of us instantly recognized in Mayakovsky a revolutionary, even if his hectic sermons to the human souls, mutilated by the vile city, sounded a bit muddled. It was an attempt at tearing off masks, revealing the sores of the society, sick beneath the veneer of respectability.
Other theatrical events that season were barely noticed. "Who's more insane, the Futurists or the public?" the Peterburgskaya Gazeta newspaper asked.
Purchase using our online PayPal shopping cart, or by phone 323.857.1115, fax 323.857.0143, email douglasmesserli@gmail.com, or send a check or money order to Green Integer, 6022 Wilshire Boulevard, Suite 202C, Los Angeles, CA 90036. We charge the list price plus $2.00 for handling & postage.