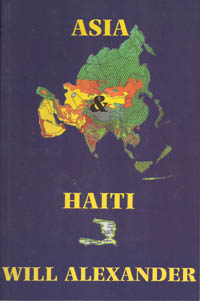 Price: U.S. $11.95*
Will Alexander
Asia & Haiti
Green Integer Series No.: A Sun & Moon Press title
ISBN: 1-55713-189-9, Pages: 144


*You can purchase online using U.S., Australian or Canadian Dollars, Euros, Pounds Sterling or Japanese Yen

Asia & Haiti presents two long poems by Los Angeles poet Will Alexander, which, the the broadest sense, are about the cultures, economics, politics, history, and social concerns of the title regions. But Alexander's poetry, densely imagistic and fiercely intelligent, takes these concerns into arpeggios of linguistic realms. At the same time, this poetry presents a remarkable re-writing of a history. Caught up in the vortex of surrealist vision and tornadoes of language, his words call up an American equivalent of the great Negritude poet Aimé Césaire.
Purchase using our online PayPal shopping cart, or by phone 323.857.1115, fax 323.857.0143, email douglasmesserli@gmail.com, or send a check or money order to Green Integer, 6022 Wilshire Boulevard, Suite 202C, Los Angeles, CA 90036. We charge the list price plus $2.00 for handling & postage.