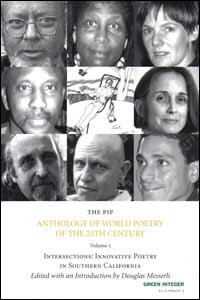 Price: U.S. $15.95*
The PIP (Project for Innovative Poetry) Anthology of World Poetry of the 20th Century
Volume 5: Intersections—Innovative Poetry in Southern California
Green Integer Series No.: EL-E-PHANT 5
ISBN: 1-931243-73-5, Pages: 336


*You can purchase online using U.S., Australian or Canadian Dollars, Euros, Pounds Sterling or Japanese Yen

Authors include David Antin, Rae Armantrout, Will Alexander, Wanda Coleman, Therese Bachand, Martha Ronk, Deborah Meadows, Diane Ward, Harryette Mullen, Catherine Daly, Franklin Bruno, Standard Schaefer, Jerome Rothenberg, Joe Ross, Mark Salerno, Todd Baron, Barbara Maloutas, Michael Davidson, Guy Bennett, Bob Crosson, Douglas Messerli, Dennis Phillips, Paul Vangelisti, Chris Reiner, Pasquale Verdiccio, Leland Hickman...
Purchase using our online PayPal shopping cart, or by phone 323.857.1115, fax 323.857.0143, email douglasmesserli@gmail.com, or send a check or money order to Green Integer, 6022 Wilshire Boulevard, Suite 202C, Los Angeles, CA 90036. We charge the list price plus $2.00 for handling & postage.