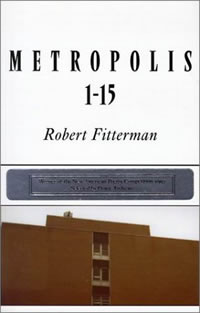 Price: U.S. $10.95*
Robert Fitterman
Metropolis 1-15
Green Integer Series No.: A Sun & Moon title
ISBN: 1-55713-391-3, Pages: 137


*You can purchase online using U.S., Australian or Canadian Dollars, Euros, Pounds Sterling or Japanese Yen

Winner of the New American Poetry Series Competition for 1997, chosen by Bruce Andrews, this collection of poetry plays with various notions of city and state, utopia and dystopia, the past and the present.
Andrews writes of this exciting book of poetry: "The city—any city, your city—comes alive in all its maximal, flash-frame, cut 'n' paste glory in Robert Fitterman's Metropolis 1-15. Book 1 launches this open-ended project, resuscitating the Long Poem tradition with a fluxy, ambient splash of border crossings, of social life way beyond the narrowly literary or the possessive lyric's 'merely personal.' Here we're 'coming down from the repro...,' with hairpin turns through a multiplicity of style, into an everyday sensory hologram, a porous yardsale of coming attractions."
Purchase using our online PayPal shopping cart, or by phone 323.857.1115, fax 323.857.0143, email douglasmesserli@gmail.com, or send a check or money order to Green Integer, 6022 Wilshire Boulevard, Suite 202C, Los Angeles, CA 90036. We charge the list price plus $2.00 for handling & postage.