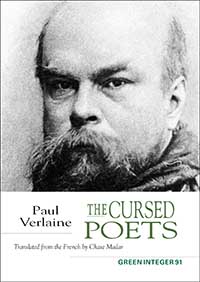 Price: U.S. $19.95*
Paul Verlaine
The Cursed Poets
Green Integer Series No.: 91
ISBN: 1-931243-15-8, Pages: 150


*You can purchase online using U.S., Australian or Canadian Dollars, Euros, Pounds Sterling or Japanese Yen

To keep this book in stock, it will now be "printed on demand," which requires us to offer it at a higher price.
* * *
Assembled from articles published in French journals, the full version of The Cursed Poets (Les Poètes maudits) was first published in 1888. Rimbaud, the boy with whom Verlaine had had his infamous affair, Mallarmé, and Verlaine himself need little introduction; figures such as Tristan Corbière and Jules Laforge, a major influence on the poetry of T.S. Eliot, were lesser known at the time, but are now recognized as major figures. Marceline Desbordes-Valmore is still unknown outside the francophone world, though Goya painted her portrait and Stefan Zweig wrote a study of her. Villiers de L'Isle-Adam is an ultimate Symbolist, after whose drama Edmund Wilson titled his Axel's Castle.
The translator lives in New York City.
Purchase using our online PayPal shopping cart, or by phone 323.857.1115, fax 323.857.0143, email douglasmesserli@gmail.com, or send a check or money order to Green Integer, 6022 Wilshire Boulevard, Suite 202C, Los Angeles, CA 90036. We charge the list price plus $2.00 for handling & postage.