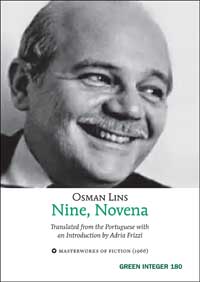 Price: U.S. $15.95*
Osman Lins
Nine, Novena
Green Integer Series No.: 180
ISBN: 978-1-55713-414-1, Pages: 305


*You can purchase online using U.S., Australian or Canadian Dollars, Euros, Pounds Sterling or Japanese Yen

Born in 1924 in Pernambuco state in northeastern Brazil, Osman Lins is one of the most innovative writers of contemporary Brazilian fiction. His work has received considerable critical attention in both Brazil and abroad and has been translated into several languages.
Although his writing began in a more traditional, realistic vein, his later works, Nine, Novena (1966), Avalovara (1973), and The Queen of the Prisons of Greece (1976), are characterized by formal innovations that reflect the evolution of his poetics and put him in a league with masters of contemporary Latin American fiction. He also produced several theater pieces and essays.
A collection of nine stories, Nine, Novena represents the turning point in Lins's career. The recurring themes of these stories -- entrapment and search for the self, art versus life, and the mythic aspects of existence -- are presented against the background of rural and urban life in northeast Brazil. The stylistic devices of the accessible tales (frequent shifts of tense, long sentences full of parenthetical clauses, heavy punctuation and inversions, and the use of graphic symbols to suggest shifts in narrative perspective) all contribute to the multiplicity of meaning and significance of these very human stories.
Purchase using our online PayPal shopping cart, or by phone 323.857.1115, fax 323.857.0143, email douglasmesserli@gmail.com, or send a check or money order to Green Integer, 6022 Wilshire Boulevard, Suite 202C, Los Angeles, CA 90036. We charge the list price plus $2.00 for handling & postage.