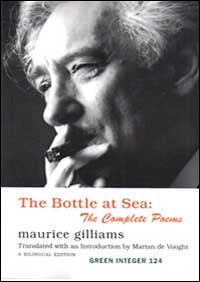 Price: U.S. $12.95*
Maurice Gilliams
The Bottle at Sea: The Complete Poems
Green Integer Series No.: 124
ISBN: 1-933382-82-1, Pages: 219


*You can purchase online using U.S., Australian or Canadian Dollars, Euros, Pounds Sterling or Japanese Yen

Born in 1900 in Antwerp, Maurice Gilliams was one of the greatest Flemish writers of the 20th century. Although his poetic œuvre is contained in just one volume, his influence upon Dutch language poets was enormous. Although Gilliams' work contains solemn words in a magnificent old Flemish style, he is decidely a modern poet, influenced by Expressionist painting and the subjects of the brutality and meaninglessness of much of contemporary life.
Here, collected for the first time in English, are the complete poems of this great Flemish author, who also wrote important novels—including the world-wide acclaimed Elias, or the Struggle with the Nightingales (1936)—and spent much of his life as a painter.
Two years before his death in 1982, Gilliams was awarded the Prijs der Nederlandse Letteren (the Grand Prize of Netherlands Letters).
Purchase using our online PayPal shopping cart, or by phone 323.857.1115, fax 323.857.0143, email douglasmesserli@gmail.com, or send a check or money order to Green Integer, 6022 Wilshire Boulevard, Suite 202C, Los Angeles, CA 90036. We charge the list price plus $2.00 for handling & postage.