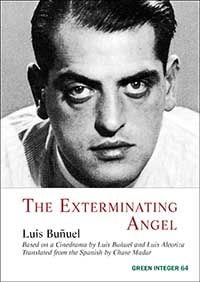 Price: U.S. $11.95*
Luis Buñuel
The Exterminating Angel
Green Integer Series No.: 64
ISBN: 1-931243-36-0, Pages: 220


*You can purchase online using U.S., Australian or Canadian Dollars, Euros, Pounds Sterling or Japanese Yen

An aristocrat named Nobile invites several society friends to his house after the opera. But even as the dinner preparations are underway, servants feel compelled to leave. Despite threats of dismissal, the footman also leaves, and, as guests arrive, other servants escape. Dinner is served and hours pass, but the guests do not leave. Finally, each refusing to be the first to leave the party, distrust sets in, and the guests turn on their host, blaming him for their self-induced captivity.
One of Luis Buñuel´s most sardonically humorous and visually dazzling movies, The Exterminating Angel reveals itself as a screenplay to be also a linguistically brilliant satire of social aspirations. The 1962 film presents itself in script form as an important work of literature.
Purchase using our online PayPal shopping cart, or by phone 323.857.1115, fax 323.857.0143, email douglasmesserli@gmail.com, or send a check or money order to Green Integer, 6022 Wilshire Boulevard, Suite 202C, Los Angeles, CA 90036. We charge the list price plus $2.00 for handling & postage.