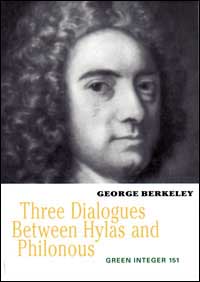 Price: U.S. $12.95*
George Berkeley
Three Dialogues Between Hylas and Philonous
Green Integer Series No.: 151
ISBN: 978-1-933382-63-0, Pages: 167


*You can purchase online using U.S., Australian or Canadian Dollars, Euros, Pounds Sterling or Japanese Yen

The great philosopher George Berkeley centered his Three Dialogues upon an imaginary discussion on the subject of materialism. Over the period of three successive mornings, Hylas (a "materialist") and Philonous (an immaterialist who represents Berkeley's own views) argue in the garden of an unknown college. They share the view that all immediately perceived objects are ideas existing only in the mind, but they differ in what these ideas actually represent. For Hylas these are the affects and, at times, the resemblances of material entities unable to be perceived by human minds, but are "real things." Philonous, a former "materialist," now denies the existence of material entities, insisting that the ideas themselves (the things perceived) are the "real things." By the end of the three discussions, Hylas has been converted to immaterialism.
Written just three years after his great publication The Principles of Human Knowledge—a work which led some critics to describe him as mad—Three Dialogues was Berkeley's attempt to "treat more clearly and fully of certain principles laid down" in The Principles of Human Knowledge and "to place them in a new light."
Born in Ireland in 1685, George Berkeley was educated at Kilkenney College and Trinity College, Dublin, and rose from a Senior Proctor to become the Bishop of Cloyne in 1734. He died January 14, 1753.
Purchase using our online PayPal shopping cart, or by phone 323.857.1115, fax 323.857.0143, email douglasmesserli@gmail.com, or send a check or money order to Green Integer, 6022 Wilshire Boulevard, Suite 202C, Los Angeles, CA 90036. We charge the list price plus $2.00 for handling & postage.