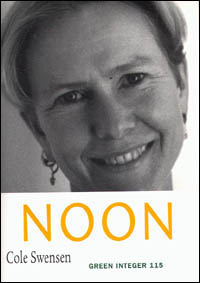 Price: U.S. $10.95*
Cole Swensen
Noon
Green Integer Series No.: 115
ISBN: 1-931243-58-1, Pages: 120


*You can purchase online using U.S., Australian or Canadian Dollars, Euros, Pounds Sterling or Japanese Yen

Cole Swensen's Noon is a stunning meditative mix of lyrical and prosaic poetry in constant motion. Swensen turns and returns the images from our external world while exploring a spiritual landscape marked by separation and the desire for reunion. The poet leads us in Noon's interior so that we "see the world as a single streak, something built of transparent speed; pure white of the sort they say no one person, unaided, can be perceived."
First published by Sun & Moon Press, the volume is now made available again by Green Integer. Author of several books of poetry, including Given, New Math, Numeun, Goest, Cole Swensen is also a translator, most recently of Natural Gaits by Pierre Alferi, L'Art Poetic by Olivier Cadiot (also available from Green Integer) and Island of the Dead (Green Integer) by Jean Frémon, the latter of which won The PEN American Center Award for Translation.
Purchase using our online PayPal shopping cart, or by phone 323.857.1115, fax 323.857.0143, email douglasmesserli@gmail.com, or send a check or money order to Green Integer, 6022 Wilshire Boulevard, Suite 202C, Los Angeles, CA 90036. We charge the list price plus $2.00 for handling & postage.