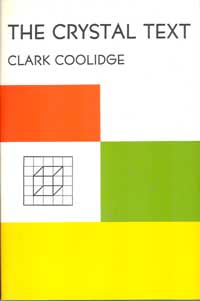 Price: U.S. $11.95*
Clark Coolidge
The Crystal Text
Green Integer Series No.: Sun & Moon
Classics # 99
ISBN: 1-55713-230-5, Pages: 152


*You can purchase online using U.S., Australian or Canadian Dollars, Euros, Pounds Sterling or Japanese Yen

EA review by Bernadette Mayer summarizes Clark Coolidge's ongoing poetic project: "In a world where people are perforce cut off from the mystical cosmic and sublime aesthetic everythings, the works of Clark Coolidge (of which a concordance would be fascinating) provide for us the beauty of some of the interstitial stuff that might weave a perception to change the world back together." The occasion for this poetic meditation is a colorless quartz crystal sitting upon the writer's desk. The crystal is as still and irreducible as a death's head in St. Jerome 's study or Cezanne's studio. But what would the crystal reveal if it could speak? How might the issue of its presence be brought into language?
The poet of The Crystal Text, by means of a rare stamina of attention and listening vulnerability, seeks to become the medium of the crystal's transmissions. Like many other Coolidge works, The Crystal Text sounds the depths of a visionary excavation of present being. Faced daily, Coolidge's quest is to know anything, to write everything. And what is revealed here in the glancing light of his language's mineral beauty is the writing mind itself. Its precision, its weights and measures, its peerless word choice and shutter speed all combine in passages of inspired momentum to bring the reader cognitions of a unique and exemplary kind.
Raised in Providence, Rhode Island, where his father was a professor of music at Brown University , Coolidge lived many years in Massachusetts before moving to California. He is the author of numerous collections of poetry, including Solution Passage: Poems 1978-1981, Sound as Thought: Poems 1982-1984, Own Face, and The ROVA Improvisations
Purchase using our online PayPal shopping cart, or by phone 323.857.1115, fax 323.857.0143, email douglasmesserli@gmail.com, or send a check or money order to Green Integer, 6022 Wilshire Boulevard, Suite 202C, Los Angeles, CA 90036. We charge the list price plus $2.00 for handling & postage.