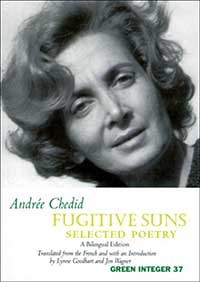 Price: U.S. $11.95*
Andrée Chedid
Fugitive Suns: Selected Poetry
Green Integer Series No.: 37
ISBN: 1-892295-25-3, Pages: 181


*You can purchase online using U.S., Australian or Canadian Dollars, Euros, Pounds Sterling or Japanese Yen

With over twenty-six books of poetry, ten novels, four collections of short stories, and various books of theater, film, essays, and children's works, Egyptian born Andrée Chedid is one of the most noted authors of our time. Chedid spent most of her childhood in Egypt, making frequent trips to France. Her family also had ties to with Lebanon and Syria.
Her early education was in Egypt, but she later attended schools in France and completed her secondary education in Paris. She earned a degree in journalism from the American University in Cairo. Accordingly, as a child and young woman, Chedid was exposed to a wide range of cultural experiences, speaking French and English, and with knowledge of spoken Arabic.
For most of her life, however, Chedid has felt most at home in Paris, and, while her fictions are firmly rooted in emotions and images from the Middle East, she has described her poetry as being "free of time and place," having no "geographical boundaries," and "belonging to all lands." The poems of this volume, her first English-language collection of poetry, are selected from her entire career, including works from 1949 to 1995.
Purchase using our online PayPal shopping cart, or by phone 323.857.1115, fax 323.857.0143, email douglasmesserli@gmail.com, or send a check or money order to Green Integer, 6022 Wilshire Boulevard, Suite 202C, Los Angeles, CA 90036. We charge the list price plus $2.00 for handling & postage.