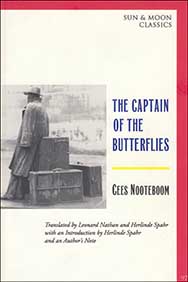 Price: U.S. $5.00*
Cees Nooteboom
The Captain of the Butterflies
[Digital edition]
Green Integer Series No.: A Sun & Moon Classic
ISBN: 1-557713-315-8, Pages: 118


*You can purchase online using U.S., Australian or Canadian Dollars, Euros, Pounds Sterling or Japanese Yen

In this, his first collection of poetry published in English, acclaimed Dutch poet and novelist Cees Nooteboom reveals a wry mix of surrealist-like images in dialogue with precise, realistic language. The result is a wonderful poetry of energy and wit. "The poet is a mill that turns the landscape to words."
Author of In the Dutch Mountains, Rituals, The Following Story, and many other books of fiction, travel, and non-fiction, Nooteboom is recognized as one of the major European authors. In 1993 he was awarded the European Literary Prize for the Best Novel, and in 1982 his Rituals was awarded the Pegasus Prize of Literature. He lives in Amsterdam.
Green Integer is publishing several new, older, and out-of-stock Sun & Moon, Green Integer, and other archived titles on line. Most of these will appear for free. Some will be priced at affordably low prices for our "on net" customers. Ordering through PayPal, customers will be provided with a PDF link within 24 hours of payment so that they can either read the books on the computer or download them to print to other media.
Donations for this service are welcome.