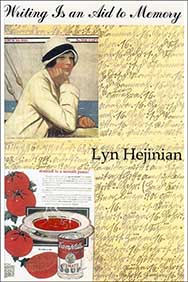 Price: U.S. $5.00*
Lyn Hejinian
Writing Is an Aid to Memory
[Digital edition]
Green Integer Series No.: A Sun & Moon Classic
ISBN: 1-55713-271-2, Pages: 60


*You can purchase online using U.S., Australian or Canadian Dollars, Euros, Pounds Sterling or Japanese Yen

"I am always conscious of the disquieting runs of life slipping by," writes Lyn Hejinian in the Preface to this major early work of poetry. "Necessity is the limit with forgetfulness, but it remains undefined. Memory is the girth, or again."
In this incredible work, Hejinian takes the idea of memory as something repeated, or "a gain," something that contributes and advances presentness. First published by The Figures in 1978, this work has long been unavailable and has been highly sought by the numerous readers and students of Hejinian's work. Her works My Life, The Cell, and The Cold of Poetry are taught in universities internationally, and have created a large audience for her writing. Writing Is an Aid to Memory will make available, once again, an important part of her oeuvre.
Born in 1941, Lyn Hejinian lives in San Francisco where she teaches.
Other digital books by Lyn Hejinian:
The Cell [1-55713-021-3], U.S. $5.00
Green Integer is publishing several new, older, and out-of-stock Sun & Moon, Green Integer, and other archived titles on line. Most of these will appear for free. Some will be priced at affordably low prices for our "on net" customers. Ordering through PayPal, customers will be provided with a PDF link within 24 hours of payment so that they can either read the books on the computer or download them to print to other media.
Donations for this service are welcome.