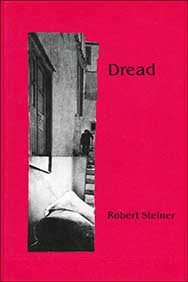 Price: U.S. $5.00*
Robert Steiner
Dread
[Digital edition]
Green Integer Series No.: A Sun & Moon Classic
ISBN: 1-55713-018-3, Pages: 188


*You can purchase online using U.S., Australian or Canadian Dollars, Euros, Pounds Sterling or Japanese Yen

Robert Steiner, a professor of literature and author of three previous novels, has written an astonishing work in which the nature of place (its unforgivable certainty of being) and the structure of person (his or her character) seem to be one and the same: mask over mask.
Dread is a bicameral novel that begins with the voyage of a psychiatrist, his wife and two friends through the Levant. This is no vacation. The psychiatrist is in need of one; his wife is depressingly depressed, and the two friends fade before the definition. At Venice, that symbol of marble awash with decay, another passenger boards: Keller, a mysterious figure who seduces both the psychiatrist's reason and his wife. Soon the Mediterranean sun is melting secrets like cocoa butter, and the bleached deck resembles a floating proscenium.
(Los Angeles Times -- January 10, 1988)
Green Integer is publishing several new, older, and out-of-stock Sun & Moon, Green Integer, and other archived titles on line. Most of these will appear for free. Some will be priced at affordably low prices for our "on net" customers. Ordering through PayPal, customers will be provided with a PDF link within 24 hours of payment so that they can either read the books on the computer or download them to print to other media.
Donations for this service are welcome.