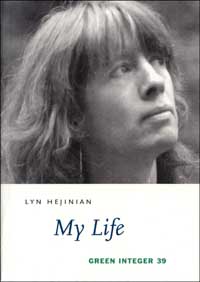 Price: U.S. $5.00*
Lyn Hejinian
My Life
[Digital edition]
Green Integer Series No.: 39
ISBN: 1-931243-33-6, Pages: 165


*You can purchase online using U.S., Australian or Canadian Dollars, Euros, Pounds Sterling or Japanese Yen

Recognized today as one of the great works of contemporary American literature, My Life is at once a poetic autobiography, a personal narrative, a woman's fiction, and an ongoing dialogue with the poet and her experience. Upon its first Sun & Moon publication—expanded from the 1980 Burning Deck edition—Library Journal described the book as one that "is an intriguing journey that both illuminates and perplexes, teases and challenges, as it reveals an innovative artist at work." Poetry Flash observed that is has "real, almost hypnotic power, obvious intelligence, and [is] astonishingly beautiful." It received the 1987 San Francisco State Poetry Center Award, and was a finalist for the Bay Area Book Reviewers Association Book Award.
Since 1987, My Life has been taught in hundreds of college and university courses around the world, and is favorite book of thousands of readers. This current, reedited edition represents its sixth printing.
Green Integer is publishing several new, older, and out-of-stock Sun & Moon, Green Integer, and other archived titles on line. Most of these will appear for free. Some will be priced at affordably low prices for our "on net" customers. Ordering through PayPal, customers will be provided with a PDF link within 24 hours of payment so that they can either read the books on the computer or download them to print to other media.
Donations for this service are welcome.