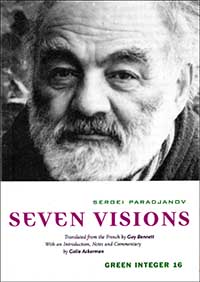 Digital Edition
Price: U.S. $5.00
Sergei Paradjanov
Seven Visions
Series No.: 016
ISBN: 1-892295-04-0, Pages: 255
Armenian Literature, Film


Born in Tblissi in 1924, Armenian director Sergei Paradjanov came to international attention with his 1964 film Shadows of Forgotten Ancestors, which won 16 awards in festivals around the world. His success was not to last, however. An outspoken critic if the overly harsh treatment of writers and intellectuals in the then Soviet Union, Paradjanov was quickly blacklisted and repeatedly imprisoned, at one point spending five years in a heavy labor camp. Though he was openly supported by such figures as Antonioni, Buñuel, Fellini, Godard, Pasolini, Renais, and others, work on his films was routinely delayed, interrupted, or banned outright. His 1969 masterpiece, Sayat-Nova, judged "hermetic" and "difficult," was pulled from the screens soon after its release and re-edited by a Soviet director who cut it by more than twenty minutes. Later re-released as The Color of Pomegranates, this brilliant work marks the high point of his career, which also included The Legend of Suram Fortress(1984) and Ashik Kerib (1988).
Shortly before his death from cancer in 1990, Paradjanov collected together the scenarios of six films he was never permitted to make. To these he added the scenario of Sayat-Nova, so that this work may be known in its original, complete form. As Galia Ackerman writes in her introduction, Seven Visions "restores to the history of world cinema what the Soviet regime successfully repressed for so long." This translation, the first book either by or on Paradjanov to appear in English, bears ample witness to the talent of this unique artist, a director that Tarkovsky considered "a genius."
Green Integer is publishing several new, older, and out-of-stock Sun & Moon, Green Integer, and other archived titles online. Some of these will appear for free, others will be priced affordably low.
Donations for this service are welcome.