Green Integer Series No.: Sun & Moon Press Classics 120
Pages: 376
ISBN: 1-55713-304-2
Price: U.S. $14.95*

*You can purchase online using Australian or Canadian Dollars, Euros, Pounds Sterling or Japanese Yen
Republics of Reality 1975-1995
Charles Bernstein
Recognized internationally as one of the major forces of contemporary poetry, Charles Bernstein—formerly the David Gray Professor Poetry and Letters and the State University of New York, Buffalo—is now a professor of literature at the University of Pennsylvania. Bernstein co-founded L=A-N=G=U=A=G=E magazine in the late 1970s, giving rise to what has come to be called "Language" poetry.
However, as these poems reveal, Bernstein's allegiance has not been to any one kind of poetry, but to an "artificed" writing that refuses simple absorption in the society around it. Including the complete poems of early books such as Parsing, Shade, Senses of Responsibility, Resistance , and The Absent Father in Dumbo, as well as new work, collected here as Residual Rubbernecking. Republics of Reality is one of Bernstein's most important collections to date, revealing his great diversity and the witty, quirky, comic, philosophic, and lyric quality of his poems
See also the author's Interview with Romina Freschi in Green Integer Review Issue No. 1.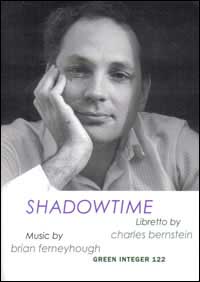 Green Integer Series No.: 122
Pages: 125
ISBN: 1-933382-00-7
Price: U.S. $11.95*

*You can purchase online using Australian or Canadian Dollars, Euros, Pounds Sterling or Japanese Yen
Shadowtime
Charles Bernstein
Buy a downloadable PDF file
Shadowtime is a thought opera based on the work and life of the German philosopher, essayist, and cultural critic, Walter Benjamin. The libretto was written by Charles Bernstein for composer Brian Ferneyhough and had its premiere in May 2004 at the Munich Biennale, with subsequent productions at the Festival d'Automne in Paris, and the Lincoln Center Festival in New York.
In its seven scenes, Shadowtime explores some of the major themes of Benjamin's work, including the intertwined natures of history, time, transience, timelessness, language, and melancholy; the possibilities for a transformational leftist politics; the interconnectivity of language, things, and cosmos; and the role of dialectical materiality, aura, interpretation, and translation in art. Beginning on the last evening of Benjamin's life, Shadowtime projects an alternative course for what happened on that fateful night.
Opening onto a world of shades, of ghosts, of the dead, Shadowtime inhabits a period in human history in which the light flickered and then failed.
Tess Crebbin in Music and Vision, says "Bernstein's libretto, plain and simple, is the finest contemporary libretto that I know of."
See also the author's Interview with Romina Freschi in Green Integer Review Issue No. 1.