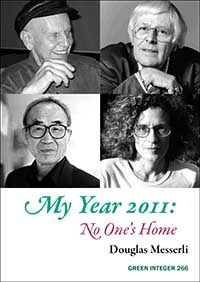 Price: U.S. $15.95*
Douglas Messerli
My Year 2011: No One's Home
Green Integer Series No.: 266
ISBN: 978-1-55713-442-4, Pages: 612


*You can purchase online using U.S., Australian or Canadian Dollars, Euros, Pounds Sterling or Japanese Yen

For writer Douglas Messerli, 2011 was a year in which no one seemed to be at home. The author himself traveled to Belgium, Netherlands, France, and Korea… while remarking that many figures in theater, film, fiction, poetry, and the broader political scene were also on the road. It was a year of stimulating activity, but travel isn't always beneficial. This constant movement seemed, to the author, to be representative of the sense of discomfort that many felt in their homes and homelands in 2011. He explored the metaphor deeply, trying to comprehend what the source of that displacement was. Once again, he provides no easy answers for the questions he poses, but instead provides a wide range of perceptions he made during cultural engagements throughout the year.
Critics have praised Messerli's quest to create a personal cultural history larger than almost any previously attempted. His My Year series, now spanning 12 volumes, analyzes and commemorates what it was like to live during the early years of the 21st century, with its long history trailing behind.
Messerli is the author of numerous volumes of poetry, fiction, and drama (under the name Kier Peters), and has edited more than 600 volumes of literary works for his presses Sun & Moon and Green Integer. His awards include the American Book Award, the ALTA Award for publishing, and being named Officier de l'Ordre des Arts et des Lettres by the French Government.
Also by Douglas Messerli:
After [1-55713-353-0], U.S. $10.95
Bow Down [1-928801-04-8], U.S. $12.95
Dark [978-1-933382-14-2], U.S. $12.95
First Words [1-931243-41-7], U.S. $10.95
Maxims from My Mother's Milk/Hymns to Him: A Dialogue [1-55713-047-7], U.S. $8.95
My Year 2000: Leaving Something Behind [978-1-55713-443-1], U.S. $15.95
My Year 2001: Keeping History a Secret [978-1-55713-428-8], U.S. $15.95
My Year 2002: Love, Death, and Transfiguration [978-1-55713-425-7], U.S. $15.95
My Year 2003: Voice Without a Voice [978-1-933382-35-X], U.S. $15.95
My Year 2004: Under Our Skin [1-978-1-933382-80-7], U.S. $15.95
My Year 2005: Terrifying Times [1-933382-65-1], U.S. $15.95
My Year 2006: Serving [978-1-933382-93-7], U.S. $15.95
My Year 2007: To the Dogs [978-1-55713-424-0], U.S. $15.95
My Year 2008: In the Gap [978-1-55713-462-4], U.S. $15.95
My Year 2009: Facing the Heat [978-1-55713-429-5], U.S. $15.95
My Year 2010: Shadows [978-1-55713-432-5], U.S. $15.95
Reading Films: My International Cinema [978-1-55713-427-1], U.S. $29.95
Stay [978-1-55713-447-9], U.S. $12.95
Purchase using our online PayPal shopping cart, or by phone 323.857.1115, fax 323.857.0143, email douglasmesserli@gmail.com, or send a check or money order to Green Integer, 6022 Wilshire Boulevard, Suite 202C, Los Angeles, CA 90036. We charge the list price plus $2.00 for handling & postage.