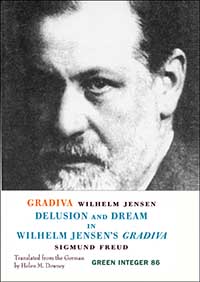 Price: U.S. $13.95*
Wilhelm Jensen
Gradiva and Delusion and Dream in Wilhelm Jensen's Gradiva
Green Integer Series No.: 86
ISBN: 1-892295-89-X, Pages: 284


*You can purchase online using U.S., Australian or Canadian Dollars, Euros, Pounds Sterling or Japanese Yen

Here together in one volume is the strange and evocative "Pompeiian Fancy" by German author Wilhelm Jensen and one of the major texts of psychoanalysis in Sigmund Freud's oeuvre, discussing the role of delusion and dream in Jensen's work.
As Freud recounts Jensen's story, a young man has discovered in Rome a marble statue that so attracts him that he purchases a plaster-cast to hang up at home in a German university city. The statue of the young woman has such an effect on him that he becomes preoccupied with the relief and confers a name on the young woman--Gradiva. An intense study of the art and artistry of the work leads to a dream in which the young man is transported to Pompeii on the day of the Vesuvius eruption, where he encounters Gradiva and attempts to warn her of her impending fate. This fantastical dream, moreover, leads him on a real journey to Rome, Naples and ultimately Pompeii, where he appears to encounter the actual woman; but when he speaks to her in Latin, she answers in German. Is this woman real or a delusion?--a question which, in turn, becomes the focus of Freud's brilliant study.
Freud's analysis is at the same time a brilliant literary interpretation of a symbolic work and a statement of the importance of literature on his own thinking and the world of scientific study.
Purchase using our online PayPal shopping cart, or by phone 323.857.1115, fax 323.857.0143, email douglasmesserli@gmail.com, or send a check or money order to Green Integer, 6022 Wilshire Boulevard, Suite 202C, Los Angeles, CA 90036. We charge the list price plus $2.00 for handling & postage.