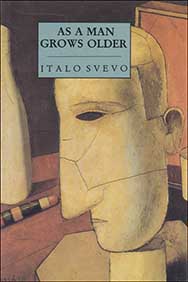 Price: U.S. $5.00*
Italo Svevo
As a Man Grows Older
[Digital edition]
Green Integer Series No.: A Sun & Moon Classic
ISBN: 1-55713-128-7, Pages: 291


*You can purchase online using U.S., Australian or Canadian Dollars, Euros, Pounds Sterling or Japanese Yen

The story of As a Man Grows Older is deceptively simple: a bachelor in Trieste, a clerk with literary leanings, allows himself to become infatuated with a beautiful but flirtatious young girl who drags him down into a betrayal of himself that is half false idealism, half pure sensuality. Yet this simple tale is one of the most complex psychological portraits of twentieth-century Italian literature. Svevo's depiction of Emilio Bretani's mind, as his growing passion for the seductive Aniolina plays havoc with his emotions, can be compared to those of Stendhal or Proust.
As author-critic Edouard Roditi points out in his introduction to this volume, James Joyce, a close friend of Svevo, knew passages of As a Man Grows Older (which was first published in 1898) by heart, and he later declared it among the most poetic of Svevo's creations. Certainly, along with his Confessions of Zeno, As a Man Grows Older places the Triestine businessman-writer in the forefront of European modernism.
Sensitively and beautifully translated by Beryl De Zoete, this psychologically profound work sits comfortably alongside the other twentieth-century classics of the Sun & Moon Classics Series.
Green Integer is publishing several new, older, and out-of-stock Sun & Moon, Green Integer, and other archived titles on line. Most of these will appear for free. Some will be priced at affordably low prices for our "on net" customers. Ordering through PayPal, customers will be provided with a PDF link within 24 hours of payment so that they can either read the books on the computer or download them to print to other media.
Donations for this service are welcome.