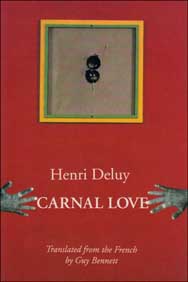 Price: U.S. $5.00*
Henri Deluy
Carnal Love
[Digital edition]
Green Integer Series No.: A Sun & Moon Classic
ISBN: 1-55713-272-0, Pages: 132


*You can purchase online using U.S., Australian or Canadian Dollars, Euros, Pounds Sterling or Japanese Yen

One of the most noted of French poets writing today, Henri Deluy explores the various aspects of love in this major collection of poetry, first published in French in 1994. The love of love, of gestures, of smells, of the activities of the body, of the taste of food and alcohol, of the sea, of the ebb and flow of politics, of voluptuousness itself--these and others serve as subjects for Deluy's greatest loves: the love of writing, of the order and disorders of poetry, of the flavor of words. Carnal Love represents both a sensual and intellectual passion for the living and the dead. English-language readers will discover in the first translation of this great French poet a truly original voice that encompasses the ordinary and the unusual, the banal and the magical simultaneously.
Author of "L" ou "Taimer''; Les Mille; Peinture pour Raquel; La Substitution; Premieres suites, and other books of poetry, Deluy lives outside Paris.
Green Integer is publishing several new, older, and out-of-stock Sun & Moon, Green Integer, and other archived titles on line. Most of these will appear for free. Some will be priced at affordably low prices for our "on net" customers. Ordering through PayPal, customers will be provided with a PDF link within 24 hours of payment so that they can either read the books on the computer or download them to print to other media.
Donations for this service are welcome.