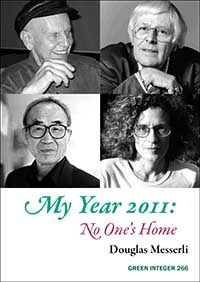 Price: U.S. $5.00*
Douglas Messerli
My Year 2011: No One's Home
[Digital edition]
Green Integer Series No.: 266
ISBN: 978-1-55713-442-4, Pages: 616


*You can purchase online using U.S., Australian or Canadian Dollars, Euros, Pounds Sterling or Japanese Yen

For writer Douglas Messerli, 2011 was a year in which no one seemed to be at home. The author himself traveled to Belgium, Netherlands, France, and Korea… while remarking that numerous figures in theater, film, fiction, poetry, and the broader political scene were also on the road. It was year of stimulating activity, but as Noel Coward expressed in his 1963 musical Sail Away, travel isn't always beneficial:
Travel they say improves the mind,
An irritating platitude,
Which frankly, entre nous,
Is very far from true.
Personally I've yet to find
That longitude and latitude
Can educate those scores
Of monumental bores
Who travel in groups
And herds and troupes
Of varying breeds and sexes
Till the whole world reels
To shouts and squeals
And the clicking of Rolliflexes.
This constant movement seemed, to the author, to be representative of the sense of discomfort that many felt in their homes and homelands in 2011. He explored the metaphor deeply, attempting to comprehend what was the source of that displacement. Once again, Messerli provides no easy answers for the questions he poses, but instead provides a wide range of perceptions he made during cultural engagements thoughout the year.
Critics have praised Messerli's attempt to create a personal cultural history larger than almost any previously attempted. His My Year series, now spanning 11 volumes, attempts to comprehend and commemorate what it was like to live during the early years of the 21st century, with its long history trailing behind.
Messerli is the author of numerous volumes of poetry, fiction, and drama (under the name Kier Peters), and has edited more than 600 volumes of literary works for his presses Sun & Moon and Green Integer. He has won numerous awards, including the American Book Award, the ALTA Award for publishing, and being named Officier de l'Ordre des Arts et des Lettres by the French Government.
Other digital books by Douglas Messerli:
Dark [978-1-933382-14-2], U.S. $5.00
From the Other Side of the Century: A New American Poetry 1960-1990 [1-55713-131-7], U.S. $15.00
My Year 2000: Leaving Something Behind [978-1-55713-443-1], U.S. $5.00
My Year 2001: Keeping History a Secret [978-1-55713-428-8], U.S. $5.00
My Year 2002: Love, Death, and Transfiguration [978-1-55713-425-7], U.S. $5.00
My Year 2003: Voice Without a Voice [978-1-933382-35-X], U.S. $5.00
My Year 2004: Under Our Skin [1-978-1-933382-80-7], U.S. $5.00
My Year 2006: Serving [978-1-933382-93-7], U.S. $5.00
My Year 2007: To the Dogs [978-1-55713-424-0], U.S. $5.00
My Year 2008: In the Gap [978-1-55713-462-4], U.S. $5.00
My Year 2009: Facing the Heat [978-1-55713-429-5], U.S. $5.00
My Year 2010: Shadows [978-1-55713-432-5], U.S. $5.00
Reading Films: My International Cinema [978-1-55713-427-1], U.S. $15.00
Stay [978-1-55713-447-9], U.S. $5.00
Green Integer is publishing several new, older, and out-of-stock Sun & Moon, Green Integer, and other archived titles on line. Most of these will appear for free. Some will be priced at affordably low prices for our "on net" customers. Ordering through PayPal, customers will be provided with a PDF link within 24 hours of payment so that they can either read the books on the computer or download them to print to other media.
Donations for this service are welcome.