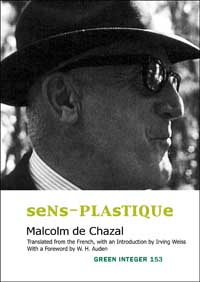 Price: U.S. $10.00*
Malcolm de Chazal
Sens-Plastique
[Digital edition]
Green Integer Series No.: 153
ISBN: 978-1-933382-67-8, Pages: 774


*You can purchase online using U.S., Australian or Canadian Dollars, Euros, Pounds Sterling or Japanese Yen

The Mauritian writer Malcolm de Chazal's great masterwork, Sens-Plastique, was published in France in 1948, with a preface by Jean Paulhan, a year after its publication in Mauritius. Since that time, the work has attained a near-legendary status and readers have discovered in de Chazal's brilliant aphorisms what the author himself described as a synthesizing of a "new view of life" requiring a unique title. "I finally settled on Sens-Plastique because apart from the fact that it seems to say that everything on earth is sensuously connected to everything else and that we all belonged to the same mold, 'plastic' suggests art in all its forms. I liked that because I consider my whole enterprise to be more of a picture than a book."
Although two previous selections of Weiss's remarkable translations of this major work have previously been published (first by Herder and Herder in 1971 and then by Sun in 1979), no complete edition of the translation has been available until now.
As W. H. Auden, writes in the Foreword to the 1971 edition, "Sens-Plastique has now been a companion of mine for nearly twenty years, and so far as I am concerned, Malcolm de Chazal (1902-1981) is much the most original and interesting French writer to emerge since the war." Now all English-language readers can share the joys of the aphoristic writing which Auden calls poetry written in prose.
Green Integer is publishing several new, older, and out-of-stock Sun & Moon, Green Integer, and other archived titles on line. Most of these will appear for free. Some will be priced at affordably low prices for our "on net" customers. Ordering through PayPal, customers will be provided with a PDF link within 24 hours of payment so that they can either read the books on the computer or download them to print to other media.
Donations for this service are welcome.