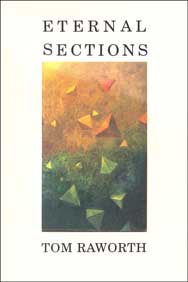 Price: U.S. $0.00*
Tom Raworth
Eternal Sections
[Digital edition]
Green Integer Series No.: A Sun & Moon Classic
ISBN: 978-1-557131-29-4, Pages: 62


*You can purchase online using U.S., Australian or Canadian Dollars, Euros, Pounds Sterling or Japanese Yen

This book is available as a FREE DOWNLOAD.
However, we encourage you to DONATE.
Tom Raworth's poetry is at once narratively based and is radically disjunctive, a writing that at every moment seems to be pushing away from the line previous but suddenly snaps back into a logical whole and transforms the meaning and the reader's experience of the poem itself.
each district commander
set the boat further adrift
its extremities shading to indigo
deepening to a tone
appropriate in some respects
it weaved and danced there

Author of over twenty books of poetry, Raworth is recognized as one of the major British poets of the 20th century. His recognition in the United States equals that of any of his countrymen. Robert Creeley has said of him, "Tom Raworth is the one who's truly most interesting to me in England at the moment. I'm fascinated by what he's doing. He's an extraordinary poet."
In Eternal Sections, Raworth continues his study of the fluidity of meaning begun in Visible Shivers. The result is a brilliant work of art.
Green Integer is publishing several new, older, and out-of-stock Sun & Moon, Green Integer, and other archived titles on line. Most of these will appear for free. Some will be priced at affordably low prices for our "on net" customers. Ordering through PayPal, customers will be provided with a PDF link within 24 hours of payment so that they can either read the books on the computer or download them to print to other media.
Donations for this service are welcome.