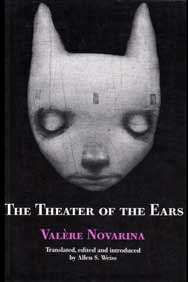 Price: U.S. $5.00*
Valère Novarina
The Theater of the Ears
[Digital edition]
Green Integer Series No.: A Sun & Moon Classic
ISBN: 1-55713-251-8, Pages: 150


*You can purchase online using U.S., Australian or Canadian Dollars, Euros, Pounds Sterling or Japanese Yen

Recognized throughout Europe as one of the major international playwrights, Valère Novarina is here introduced to American audiences with a brilliant essay, "In Praise of Solecism," by the translator, and with essays by Novarina on his ideas for drama and performance. Together, these essays introduce the brilliant mind of this dramatist, director, stage designer, painter, and performance artist.
As Novarina makes clear in "Letter to the Actors," he advocates what he terms as "linguistic carnage." "Everything that destroys or circumvents our linguistic habits is valorized: errors, slurs, babble, lapsus, agrammaticisms, malapropisms, aphasia, and whatever other effects--psychopathological or quotidian--loosen the tongue, worsen speech, fracture the word."
In his brilliant introduction, Weiss traces Novarina's roots to Antonin Artaud's call for poetic and linguistic innovations in French theater. Artaud's complaint that "speech in the Western theater has been reduced to psychological effects," that "actors in France no longer know how to do anything but speak," is reflected in Novarina's call for "articulatory cruelty, linguistic carnage." Novarina, Weiss argues, "represents the contemporary French language in its extreme state of mutation, distortion, and transformation."
The first of what Sun & Moon Press plans as several publications by the noted French playwright, The Theater of the Ears is a stunning manifesto for a new theater.
Green Integer is publishing several new, older, and out-of-stock Sun & Moon, Green Integer, and other archived titles on line. Most of these will appear for free. Some will be priced at affordably low prices for our "on net" customers. Ordering through PayPal, customers will be provided with a PDF link within 24 hours of payment so that they can either read the books on the computer or download them to print to other media.
Donations for this service are welcome.