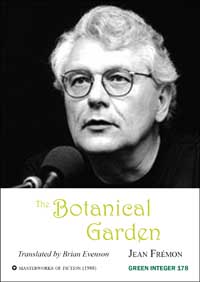 Price: U.S. $5.00*
Jean Frémon
The Botanical Garden
[Digital edition]
Green Integer Series No.: 178
ISBN: 978-1-55713-411-0, Pages: 284


*You can purchase online using U.S., Australian or Canadian Dollars, Euros, Pounds Sterling or Japanese Yen

In 2003 Green Integer published Jean Frémon's sequel of the concerns of this 1988 fiction, Island of the Dead. The work won the PEN-West Translation Award for its translator, Cole Swensen, and was reviewed extensively. The Los Angeles Times Book Review described it as "Part Foucault, part I Ching, part narcissist marooned. It shows how shallow, how deep, how desperate, how alive the human mind can be."
Now readers can revisit the wonderful jardin botanique--the location of both fictions--at a slightly earlier period from Island of the Dead, and bathe in the flow of ideas, aphorisms, and bits and pieces of biology, anthropology, and other sciences, as well as exploring, with the narrator, some of the deep philosophical issues facing us all. The Botanical Garden, brilliantly translated by Brian Evenson, is, like the other work, a philosophical fiction, a long associative speculation on art, literature, and life. As the narrator notes, early on in this fiction:
I liked the sort of chaos made from disorder and improvisation in which I lived. The idea of having several personalities on hand at once, truly many careers without a lot of connection to one another, somewhat attracted me, I saw it as a guarantee of tranquility, the assurance of being able at will to leave one part of yourself so as to take refuge in an other, the comforting feeling of never truly resembling your portrait. …Why not, once past the age of fifty, treat oneself to this luxury?
So can the reader treat his or herself to the same joys, exploring a world of seemingly unrelated pieces of information, which ultimately, like life, display deep connections.
Green Integer is publishing several new, older, and out-of-stock Sun & Moon, Green Integer, and other archived titles on line. Most of these will appear for free. Some will be priced at affordably low prices for our "on net" customers. Ordering through PayPal, customers will be provided with a PDF link within 24 hours of payment so that they can either read the books on the computer or download them to print to other media.
Donations for this service are welcome.