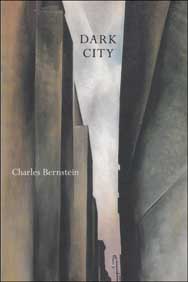 Price: U.S. $0.00*
Charles Bernstein
Dark City
[Digital edition]
Green Integer Series No.: A Sun & Moon Classic
ISBN: 978-1-557131-62-1, Pages: 146


*You can purchase online using U.S., Australian or Canadian Dollars, Euros, Pounds Sterling or Japanese Yen

This book is available as a FREE DOWNLOAD.
However, we encourage you to DONATE.
Dark City, Charles Bernstein's twentieth book, is an at times comic, at times bleak, excursion into everyday life in the late 20th century. In Dark City, Bernstein moves through a startling range of languages and forms, from computer lingo to the cant of TV talk shows, from high-poetic diction to junk mail, from intimate address to philosophical imperatives, from would-be proverbs to nursery rhymes and songs.
Bernstein's city is flickering and evanescent, moving from Madras to New York to Los Angeles, from "Virtual Reality" to "The View from Nowhere." Yet his collage of diversive/divisive voices also represents, as The Village Voice has noted, "A tireless attempt to regain our attention and bring us from inertia into discourse again":
Love is like love, a baby
like a baby, meaning like
memory, light like light.
A journey's a detour
and a pocket a charm
in which deceits are borne.
A cloud is a cloud and
a story like a story,
song is a song,
fury like fury.

Green Integer is publishing several new, older, and out-of-stock Sun & Moon, Green Integer, and other archived titles on line. Most of these will appear for free. Some will be priced at affordably low prices for our "on net" customers. Ordering through PayPal, customers will be provided with a PDF link within 24 hours of payment so that they can either read the books on the computer or download them to print to other media.
Donations for this service are welcome.