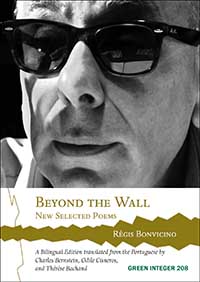 Price: U.S. $5.00*
Régis Bonvicino
Beyond the Wall: New Selected Poems
[Digital edition]
Green Integer Series No.: 208
ISBN: 978-1-55713-431-8, Pages: 220


*You can purchase online using U.S., Australian or Canadian Dollars, Euros, Pounds Sterling or Japanese Yen

Régis Bonvicino's poems are centered around the dystopia of urban spaces -- especially Sao Paulo where he lives. While his poems include the imagery of nature, they are nevertheless resolutely unromantic, and often brutal in their street-level observations. Friction reigns between the intense lyricism and gritty content, between sound and syntax, between rhyme and intense rhythmic shifts.
Among Bonvicino's many publications are Sky-Eclipse: Selected Poems (Green Integer), Ossos de Borboleta (poems of which appear in this volume), 33 Poemas, Más companhias, Primeiro Tempo, and a children's book, num zoológica de letras. He has edited and translated Oliverio Girondo's work, as well as books by Jules Laforgue, Robert Creeley, and Douglas Messerli. He edited the correspondence of Brazilian poet and novelist Paulo Leminski. He is the editor of Sibila, a magazine of art and culture.
Green Integer is publishing several new, older, and out-of-stock Sun & Moon, Green Integer, and other archived titles on line. Most of these will appear for free. Some will be priced at affordably low prices for our "on net" customers. Ordering through PayPal, customers will be provided with a PDF link within 24 hours of payment so that they can either read the books on the computer or download them to print to other media.
Donations for this service are welcome.