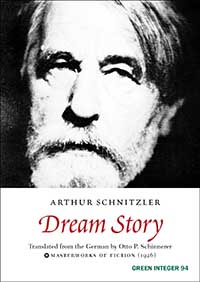 Price: U.S. $5.00*
Arthur Schnitzler
Dream Story
[Digital edition]
Green Integer Series No.: 94
ISBN: 1-931243-48-4, Pages: 143


*You can purchase online using U.S., Australian or Canadian Dollars, Euros, Pounds Sterling or Japanese Yen

Masterworks of Fiction (1926)
A married couple, Fridolin and Albertina, are troubled by events and jealous of each other's attentions the night before at a party. Suddenly, Fridolin, a doctor, is summoned to the bedside of a dying man, an elderly councilor, whose daughter he finds attractive and vaguely sensual.
So begins a series of involvements throughout the night and following day in increasingly dangerous and deviant sexual adventures for Fridolin, who, taken by a friend to a "secret" party, is forced to make choices that seemingly are beyond his control. The dream-like events are rendered more frighteningly real through Schnitzler's powerfully detailed descriptions, as little by little Fridolin gives in to the demands of the secret celebrants.
Do these represent real acts, or is the very fact that he imagines them enough to symbolize his moral decay? Schnitzler gives no answer, but Fridolin himself comes to realize that "No dream is entirely a dream."
Long recognized as one of Schnitzler's masterworks, the novel was recently filmed by Stanley Kubrick as Eyes Wide Shut with Nicole Kidman and Tom Cruise as the married couple. In this superb translation, we recognize the full force of Schnitzler's haunting tale.
Green Integer is publishing several new, older, and out-of-stock Sun & Moon, Green Integer, and other archived titles on line. Most of these will appear for free. Some will be priced at affordably low prices for our "on net" customers. Ordering through PayPal, customers will be provided with a PDF link within 24 hours of payment so that they can either read the books on the computer or download them to print to other media.
Donations for this service are welcome.